For a quick update on how i started this project check out
Part one
: )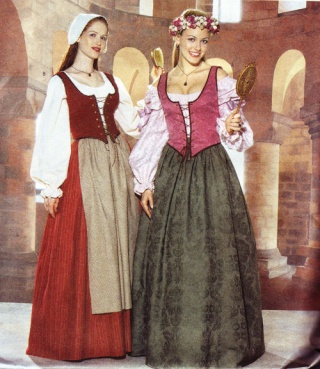 21st March 2009:
After some time and planning I have
decided
to team the bowed chemise (which ironically looks like the ballooning sleeves of Captain Emiline) which comes with a little bonnet and the
top right skirt
which I

have fallen in love with. I have not yet found fabric to make the skirt's but I have bought some 100% cotton bed sheets
(it is the cheapest way)
for the chemise, pantaloons, bonnet and apron.
I also already have some bed sheets and some old curtains but I think that later looks obviously like a window dressing and the former has a floral pattern that is too modern.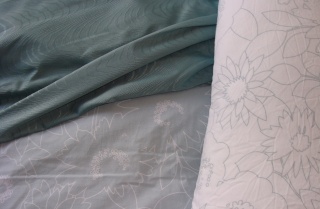 30th March:
I have found some heavy patterned skirt which is darker than I originally planned but easier and saves money and time. It is mostly red but with some dark green and brown in the pattern. I'll probably go for a dark green over skirt or maybe just have a simple apron over the top.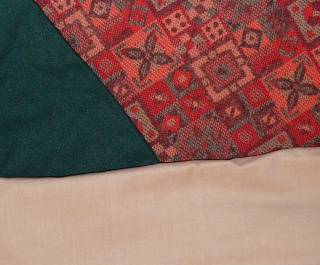 2nd April:
I bought some bed sheets today and have decided on a magnolia cream for the chemise, but the simpler version, sans the bows. I also bought some pale mushroom cotton, which I was going to use as the skirt intill I found the heavy patterned fabric, and now it won't match. I might use it for the bonnet but I doubt it. Watch this space for more updates and photos : )
I have started to make some simple tabards for my dad and brother for the medieval faire and joust in a few of weeks time. I have an easy design and they will be made by a straight hemmed bed sheet (my favourite good value source of cotton for costumes) sewn in a loose poncho shape. Sew the sides and viola. I will embellish them both with some ribbon, a red cross on the front : )


11th April: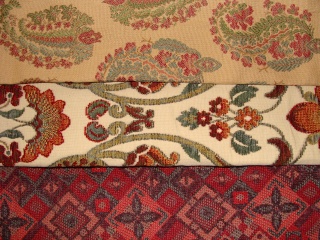 I found some fabulous curtain samples in the shop for only £1 and bought 2, (the top 2 in the photo above) although I was tempted by two others I resisted buying the whole lot. The one I choose for this waist clincher is the central one. The samples are not big enough for much else so I might make a second clincher or maybe some sort of purse? I do want a leather purse and pouch to go on a belt to complete the whole look but they are expensive.

11th-16th April I did the most of the work on my wenches costume.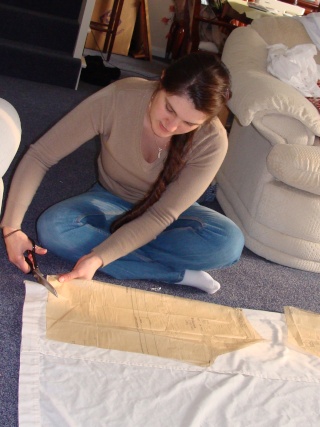 I had great fun with the balloon sleeves and the elastic, it was a learning curve and I'm glad I gave it ago. I see a couple more on the cards in future ; ) Thanks for hanging in there, it is a rather long post and my first full start to finish item,
Check out
part 3
,
my final post for the finished result : )