I was surfing and started to browse a catwalk fashion blog. Usually vintage is much more my thing but I do enjoy the over the top style that is often on the cat walk: big make up and even bigger hair, outrageous outfits and often some sort of theme which as a costume lover is the main thing that attracts my attention to the cat walk.
When browsing I found this fabulously ridiculous
Jeremy Scott/Schott leather jacket.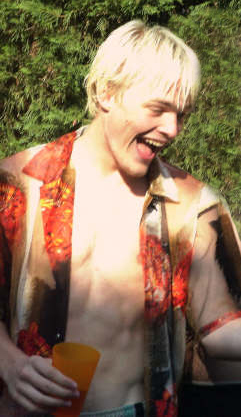 It is not something I would ever buy and in fact I think it is hideous but it reminded me of a friend (and ex boyfriend) and I thought he might have a fancy for this particular jacket. Kit had the oddest sense of style, in that he had no sense of style at all. He had a pair of silver jean trousers with big black Chinese characters all over, a ladies 80's shoulder padded navy blue leather jacket and one of his favourites,
earthy orange net mesh shirt with a red tiger printed face/head on it.



He was loud and "out there" and his clothes reflected that greatly, I think you get the picture. As with many a child of the 80's, we have a fondness for the cartoons of when and Kit was no exception, I'm not entirely sure about the trolls but I am sure this jacket would make him chuckle.