And Volia, after several changes (good job I am flexible) it is finished. You can see
Part one
and
part two
here :)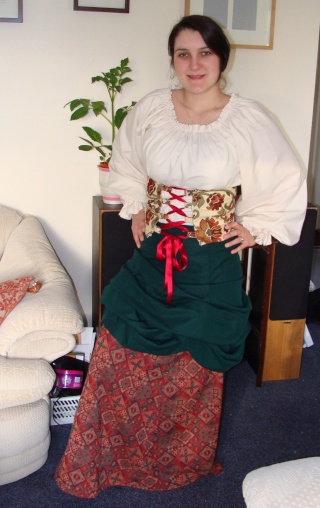 I am glad to have finally finished my delightful wench-esk costume. It took roughly 6 hours to complete and has a few modifications from the original plan.



Here is a final picture of me at the Medieval Faire with my brother : ) We went to St Georges Day Joust at Cressing temple. I didn't have my hair covered (very uncouth - but to be fair I was hardly historically accurate) as my bright white mobcap did not match and doesn't look that great either! I'll definitely make a bonnet for next time. (To be honest I ran out of time)


During the day the waist clincher got crumpled so I will definitely reinforce it
for future wear,
maybe go the whole hog and make it into a corset with some boning. I also plan make a matching apron and bonnet to wear without the over skirt for a more common look. I also want to make a proper lace up vest, as it is more authentic but think that I will either have to get some serious help or pay someone to do it for me as the pattern is really complicated!

It was a great day and I saw several brilliant leather purses I wanted as well as several other pouches and accessories including cutlery, scissors (there were awesome!) and tankards. Not to mention several swords ; ) But we resisted and kept from spending any money. Well...Dave did buy a bottle of mead but I don't think refreshments count ; )