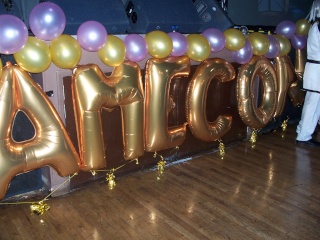 In august 2007 Dave and I attend Amecon attempted some cosplay. The plan was for Peach and Mario but after some confusion with the rubbish army postmaster holding Daves blue overalls for 5 whole days he did not dress up.
Mario was realitivley easy, I bought the blue overalls from a trade website and a red long sleeve TShirt from Primark. I made some buttons with bright yellow felt coverings to attach to the dungerees. I bought a sticky black tash and a novelty red cap, and viola. I did want to source a baker boy cap and do it myself but failed to find one that was satisfactory, definitely something I will do in the future.
Peach wasn't too hard either. I modified a heavy cotton dress with puff sleeves (badly may I add, they should have been much bigger) and made a very simple over skirt. It did not have a collar more like a square neck line. I wore a ribbon chocker to compensate. I was going for the Mario Bros. original dress also seen in the newer Gamecube/Wii games. I attached ribbons for detail and made accessories of which I was very proud of; they are the bits of the costume. I made a crown from gold card and source earrings for gems, I attached hair slides to fix it to the wig, it was spot on. I painted some paper and fitted it into a small oval cross-stitch frame for the broach, and attached a pin, it was was perfect. I would like to wear this costume again but the blonde wig was itchy and made my complexion rather green! I would definitely wear a petticoat next time too as the skirt was limp and not interesting. I would also finish my other items, the star over shoulder purse for one and maybe a small one up mushroom for luck ; )
I also wouldn't had minded a Perry parasol, just because it looks cool (Despite the fact that Super Princess Peach is an appallingly disastrous game)
There was another peach there on the second day but her dress was stitched badly and loosely, so although my costume was not quite spot on it was definitely better planned and made : )
At the convention we had a great time and it was very interesting and fun, I'd love to do another one but think that Anime is too focused for Dave and I, maybe a gaming convention? Or comics? Who knows. We made a couple of friends but my favourite bit was all the range of costumes, of which you can see some high lights in my FB album.