"I'm late, I'm late for a very important date!" This watch is two days slow, now wonder he is late!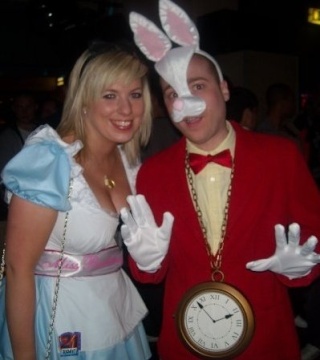 Here is a costume I now own in its entirety thanks to a friend. He is reluctant to keep possession he is unlikely to use and so has passed it onto me, I am ever so grateful to have it in my extensive collection : ) It has a pair of very nice pale yellow checked trousers, (Think Rupert the bear) a large plastic watch with a red jacket and dickie bow. He also gave me the yellow short-sleeved shirt and Rabbit ear and nose piece.
Unfortunately I couldn't wear it all myself, there would be modifications, a waistcoat would be great for starters, although it is a shame the fetching check trousers wouldn't fit me. And I would probably wear free-standing ears and paint on a nose/whiskers or else where a separate nose piece rather than the one nose/ear set, my eyes get irritated by things on my face >_<
But it is a very welcome addition to my collection, and I am grateful to have many things in my possession I am unlikely to use very often ; ) Thanks very much Jim!