Last year I bought a red pirate dress from a website. I'm not usually one for store bought costumes because they are so un-customisable and I like to create a bit of a character. But this dress really caught my eye; its got bright red ballooning sleeves which are fabulous, a black velvet top which goes under the bust, very saucy and a (if too short) full skirt which looks brilliant with a stiff petticoat.
Here is a photo of the store bought
Captain Emeline
.


With black boots, ribbons in my hair and my big pirate hat with ribbons and lace,
Captian Emeline
looks like a top rate lady of the sea.
It's not a great photo I'll warrent you, but the only one I have as of yet, I need another excuse to wear my fabulous dress. On this occasion I wore it with for-mentioned garb including lacey hat and pistol, which were promptly

stolen, that is what happens when you go to the Adj. Also for the record yes my beloved husband is drinking Scrumpy Jack.
Due to the un customisability of this dress for a long time I have hand my mind on a fancy red coat for Captain Emeline with gold trim, big buckles, lots of lace and brass buttons.
And volia, a bit like this: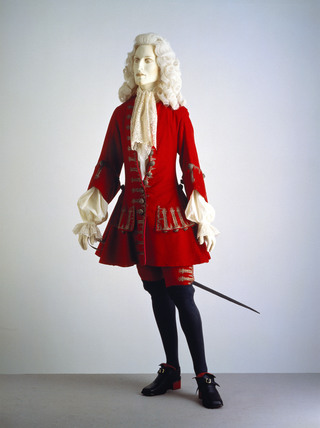 Here is a

concept of what I would roughly like it to look like. I am hoping to buy a formal red coat to modify or if needs be just a red mac would do. As long as it is red, the right length and has reasonable waist clinch, with a bit of gold trim and some

brass buttons

a

nd we are of! It's been a year since I have been dreaming of this coat and I'm still on the look out, I doubt it will come true anytime soon.