The Cat walks over winter have been full of lots of big exciting shapes and interesting features, quite a few of which have already entered the real fashion world via celebrates and will soon be in our high streets. A few I think will be predominate are featured in my blog this week.

A flow-on from 2008's flapper trend, fringing was a dominant feature of the Spring/Summer 2009 runways and I just love it! They will be less costume orientated as they were in the party season and more modern. Another fringe theme is going to be Jimmy Choo style leather fringing on accessories and jackets, n

ow

celebrities can enjoy it too, not just cowboys ; ).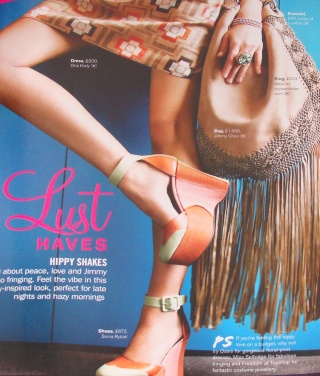 Along with wedges shoes there is going to be a very boho 70's feel this spring but I think that the 80's revive will still hold the party scene for a while.
The bright colours, bows and big hair are great, the wet look leggings I'm not so keen on!
From single-shouldered dresses to tops and bikinis, asymmetric shoulder-lines have made a huge return in 2009, it wont be long in till the high street catches up and they become a regular occurrence. (Which is good news for my Pocahontas dress search ;)

There will be lots more bright colours showing up, which is my favourite things about the new fashion. In particular jeans, coats and handbags will be in primary and bold colours. As spring arrives there should be plenty of floral and butterfly prints, like last years flowers and lace, I think in the high street this year is going to be another very girly summer.
History and fashion repeat themselves; so don't be surprised to find out that Roman-esque and Grecian inspired clothing are a key fashion trend in 2009. It's both a logical flow on from the one-shoulder trend, and a natural progression from maxi-dresses from last summer. Although they haven't gone anywhere, I expect them to hang around for at least another year in the high street, especially with the wedges and platforms being such a significant shoe trend. There will also be some male influence, you will continue and increasingly see oxford lace up shoes, waistcoats and braces.
Those are the 3 key trends - fringing, bright bags and platforms - from the catwalk I think will progress into everyday fashion on the high street, so if you spot someone with a fringed leather handbag don't be afraid to ask them where they bought it!