Its that time of year again, summer is fast approaching and its time to plan cosplays for the
conventions
:) I have a couple of costumes I made before falling pregnant, and some could be modified. I am keen to début my
Kaylee
overalls which could be adapted for bump, if I get a waist coat and stethoscope for my
baby Daddy
"Simon" it could be quite funny :)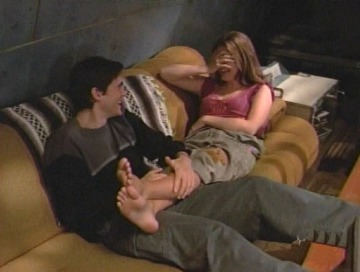 I haven't worked on it but I have a nearly finished "
Ponyos Mother
" who is a beautiful sea goddess with long red hair. If Dave will let me I can dress him as Ponyos father, the human wizard who resides in a submarine and we can be the perfect prequel pair, he certainly fits the kooky character ;)
Also I have a dress that is very close to that of an extra in the first episode of my all time favourite anime
Cowboy Bebop
. I have on the top of my cosplay wish list a Spike and Faye costume, the later of which has been struck right off! I can make trousers and buy a sombrero and poncho for Spike should the Jacket be too complex or time consuming.
In the past its been me motivating and pushing DH into costumes, or (due to work) been left till the last minute or he couldn't decide on a costume. David is for the first time excited about a cosplay! He isn't a massive fan of resident evil but after researching a Jill Valentine cosplay (as I am want to do in my spare time) he would love the chance to get kitted up and be
Chris Redfield
for the day. Looking badass has never felt so right!
He has a lot of options for the combat waistcoat with plenty of army barmy mates it shouldn't bee too hard to find something suitable. He is also keen to try his hand at prop making for Chris' machete, not to mention nagging me into learning leather working to make him holsters not only for cosplay but also his military past times. Is there no end to the demand on my talents??